Ultimate Guide to the Popular Nissan Silvia S15
Welcome to SilviaS15.com!
The Nissan Silvia S15 is an extremely rare sport compact car generation that was produced exclusively for the Japanese, Australian and New Zealander markets in 1999, 2000, 2001 and 2002. The short production run combined with the localized market and heavy use in motorsports, makes this one of the harder to find yet highly sought-after pseudo-classic sports cars. This is particularly true when looking for a S15 in the USA or Canada (collectively North America). Even large automotive robust states such as California and Florida have very little stock or inventory of the Nissan Silvia S15.
If you are visiting this site there is a good chance you are already familiar with these facts along with the history and background of the S15. If you are new to this exceptionally high performance automobile, we recommend you start your journey by checking out or in-depth Nissan Silvia S15 Review which includes a history of the entire Silvia model lineup. If you want to skip this section of the site feel free to use the navigation at the top or right of this page to browse our review of S15 parts, our highlight of the popular Spec R variant and our S15 classifieds sections. Should you have any general questions feel free to contact us. Thank you for visiting Nissan Silvia S15!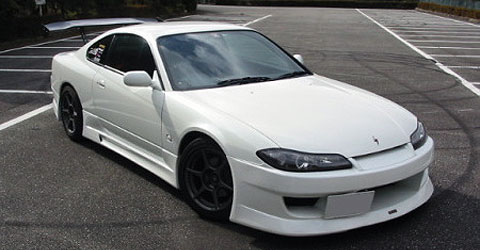 Having been designed during the turn of the 21st century, the S15 features modern car design and is considered to have aggressive styling both on the interior and exterior. This however is describing the stock version of the S15, which is rarely left in this condition. Most S15 owners are motorsports or drifting enthusiasts that modify the stock look of the S15 with body kits, spoilers and other aftermarket parts.
Because the S15 is the final generation of the Silvia and Nissan S Platform, it represents a unique turning point in the automotive industry which adds to the appeal and intrinsic collector value.
Silvia S15 Legacy & Motorsports Utilization
The S15 along with is predecessors the S14 and S13 have seen considerable success in motorsports. The S-series cars collectively have won seven D1 Grand Prix championships with five separate drivers using the S15. The S13 also has a Formula D championship.
Nissan Silvia S15 Grand Prix Winners & Years
Nobuteru Taniguchi - 2001
Ryuji Miki - 2004
Yasuyuki Kazama - 2005
Masato Kawabata - 2007
Youichi Imamura - 2009, 2010 & 2011
This is a testament to the design and quality of the car as a racing automobile. This has led to the S15's popularity in motorsports, namely drifting, racing and rallying.
The racing popularity of the S15 has led to an explosion of aftermarket and racing parts. This includes body kits, engine mods, turbo enhancements, interior and exterior customizations, headlight upgrades and performance parts. Check out the parts page for more information and a glimpse at prices, specs and availability.