Nissan Silvia S15 Review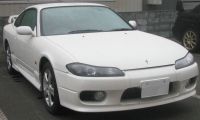 Because the Nissan Silvia S15 was produced only for the commercial markets of Japan, Australia and New Zealand it is rare to find a stock Nissan 200SX in American and Canada (North America). A majority of the S15s that are found in the USA are grey imports. (see below)
(Grey import cars are automobiles that get into a country through a non-regular distribution channel. It should be noted grey imports are 100% legal but often frowned upon because they threaten the network of official dealerships, however while bringing business to the aftermarket, service and parts markets.)
Despite the rarity of the stock version of the S15 in today's market, here are the major specifications to be aware of. For a full list of specs be sure to check out this unofficial page on the Nissan S15.
Nissan Silvia S15 Specs
•Transmissions: Five & Six Speed Manual, Four Speed Automatic (E-AT)
•Fuel Tank Capacity: Sixty-Five (65) Liters
•Engines: Water cooled 4 cylinder DOHC w/ 1998 cc displacement
-SR20DET: 250 Horsepower @ 6400 RPM / 8.5 Compression
-SR20DE: 165 Horsepower @ 6400 RPM / 10.0 Compression
-SR20DE: 200 Horsepower @ 7200 RPM / 11.7 Compression

Wheelbase: 99.4 in (2,525 mm)
Length: 175 in (4,445 mm)
Width: 66.7 in (1,694 mm)
Height: 50.6 in (1,285 mm)
Curb weight: 2650 - 2800 lbs. (1200-1270 kg)
Vehicle Layout: Front-engine, rear-wheel-drive layout
Body Color Options
Signal Red
Pale Aquamarine (metallic)
Pewter (metallic)
Cobalt (metallic)
Lightning yellow
Pearl While (3 coat pearl)
Super Black
For a full look at the history of the Nissan Silvia S15 and the entire Nissan S platform view our history page. For other information about the 200SX use the navigation to the right or at the top of this page.